Following the success of the previous Yeovil Literary Festivals, the 2019 festival will once again see an exciting programme of literature and arts events from well-known literary figures, comedians, celebrities and exciting new writers. The festival is a not-for-profit partnership between The Octagon Theatre (part of South Somerset District Council), Waterstones, Yeovil Community Arts Association and Somerset Library Service.
The first festival in 2013 sold 2,500 tickets for events including Sir Tony Robinson, Mary Berry, Michael Morpurgo, Santa Montefiore, Paddy Ashdown, Rula Lenska, Artemis Cooper, David & Carrie Grant, Dame Jenni Murray, Wendy Cope, Jeremy Hardy and many others. Events took place at The Octagon Theatre (622 seats) and various venues across the town.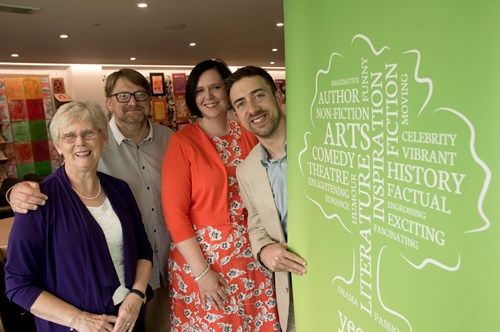 Festival Directors (Right to Left): Liz Pike - Yeovil Community Arts Association, Marcus Bishop - Waterstones, Yeovil, Emma Mercer - Yeovil Library, Adam Burgan - Arts & Entertainment Manager, The Octagon Theatre (SSDC).

Since 2013 the Yeovil Literary Festival has gone from strength to strength and has welcomed even more inspirational artists and event to South Somerset with over 7,500 tickets sold for the 2018 festival. This annual event is intended to grow in size and profile to become a major literary festival and a leaving festival for the South West.
 Our 2019 headline sponsors are Battens Solicitors.